Size Range : 2″ to 24″ Flanged
[dt_vc_list]
Features
4Matic Multi function Type Control Valve with Manual Controller can be used as isolating valve and also for flow controlling application. Special Design Namur style Level Operated Ball Valve mounted on main valve for operation. Its simple Technical and heavy duty design impact a unique stands against other Control Valve. High Flow factor and simple Pilot Control makes its very user friendly.
[/dt_vc_list]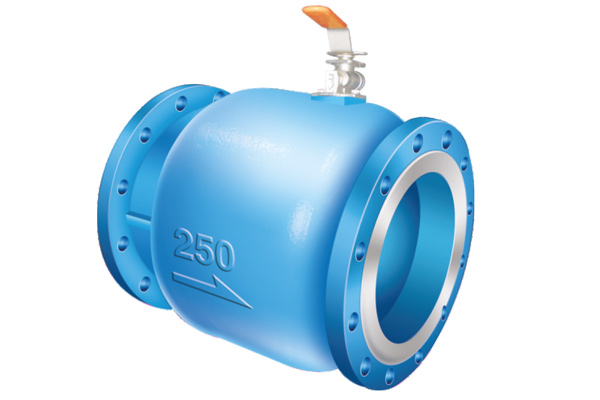 [dt_vc_list]
Exclusive design having for bigger sizes Municipal Water Supply Boards & cross country Pipe line Projects.
High Cv Value, with Low Pressure Hammering via smooth operation in Actuator
Lever Operated Low Torque PTFE Seated Ball Valve for smooth and trouble free operation
Low Noise & Friction at the time of Controlling.
 Vertical & Horizontal installation can be done.
[/dt_vc_list]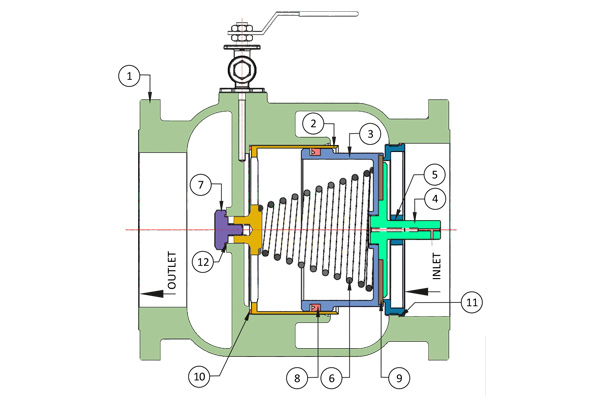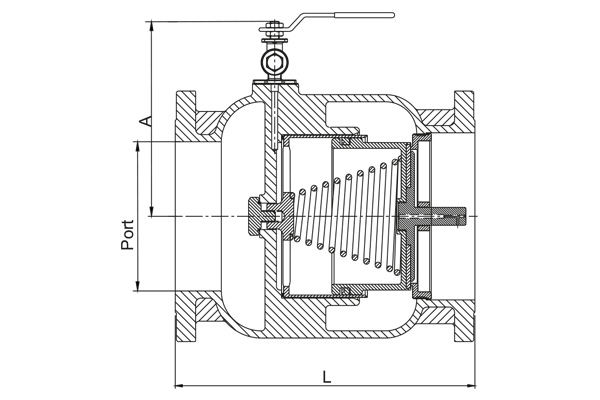 | | | | |
| --- | --- | --- | --- |
| No. | Description | Material | Qty. |
| 1 | Body | WCB / C.I. / D.I. / CF8 / CF8M | 01 |
| 2 | Cover | Stainless Steel 304 / 316 | 01 |
| 3 | Plug | Stainless Steel 304 / 316 | 01 |
| 4 | Piston | Stainless Steel 304 / 316 | 01 |
| 5 | Piston Guide | Stainless Steel 304 / 316 | 01 |
| 6 | Spring For Piston | S. S. 304 | 01 |
| 7 | Piston Cover Lock Bolt | S. S. | 01 |
| 8 | V – Seal For Piston | NBR / Viton / EPDM | 01 |
| 9 | Piston Seat Ring | NBR / Viton / EPDM | 01 |
| 10 | Flat Ring | NBR / Viton / EPDM | 01 |
| 11 | O – Ring For Piston Guide | NBR / Viton / EPDM | 01 |
| 12 | O – Ring For Piston Lock Bolt | NBR / Viton / EPDM | 01 |
(All Dimensions are in mm)
Valve Model
Valve Size
Port
A
L
CV
Weight (Approx.)
MM
Inch
DHF – 50
50
2″
60
152
190
75
8.580
DHF – 65
65
2.1/2″
69
162
210
105
11.660
DHF – 80
80
3″
84
177
225
140
17.280
DHF – 100
100
4″
110
189
250
260
23.040
DHF – 125
125
5″
134.5
208
280
390
49.260
DHF – 150
150
6″
158.5
269
309.5
550
49.260
DHF – 200
200
8″
208.5
269
419
1000
92.000
DHF – 250
250
10″
257
352
473
1699
124.020
DHF – 300
300
12″
302
336
532
2200
196.540
DHF – 350
350
14″
345
381
598.4
3000
264.600
DHF – 400
400
16″
345
379
634
4000
278.300
DHF – 450
450
18″
472
469
766
5300
457.000
DHF – 500
500
20″
472
459
772.7
6100
491.150
DHF – 600
600
24″
589
499
900
9200
—–