PTFE Lined Butterfly Valves
4Matic PTFE lined valves are well suited for consistent performance requirements in highly corrosive applications involving chlorine, benzene, sulphuric acid, nitric acid, phosphoric acid, hydrochloric acid and sea water. Virgin grade resins and thick fluoropolymer linings provide for superior resistance to corrosive chemical effects, absorption and swelling.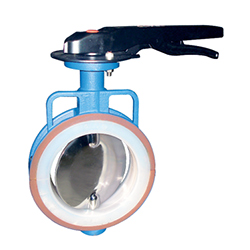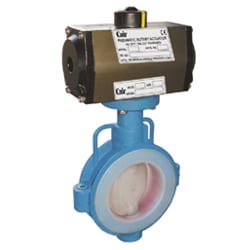 Design and Manufacturing : API 609 Category A / BS 5155 / MSS SP-67 / AWWA C504
Valve Face to Face Dimensions:Short Wafer as per ISO 5752 Tab 5 / API 609 Category A
Top Flange Drilling : ISO 5211 Part II
Inspection and Testing : API 598 / BS 6755 / FCI-70-2
Flanged Standard Conformity : ANSI 150, DIN PN 10 / 16
Precision Spherically Molded & Machined One Piece Disc/Stem.
Minimum 3mm Thick FEP/PFA Liner.
Integral Actuator Mounting Flange.
ISO 5211 Mounting Flange.
Dynamically Loaded Mechanical Shaft Seal.
Radially Loaded Atmospheric Seal.
Enhanced Resilient 360 degrees Elastomeric Energizer.
High Strength Fasteners.
Blowout Proof Stem.
Chambered PFA Raised Face Flange Sealing.
Epoxy Coated Body.
PTFE (FEP – PFA) Lined Butterfly Valve with Pneumatic Actuator
Size  :2″ to 20″
MOC : WCB / CF8 / CF8M / CF3M
Seals: FEP / PFA
Pressure : 10 Kg/cm2
Temperature : FEP 180°c / PFA 230°c
Ends : Wafer Type
FEP / PFA Lined & Muffler Butterfly Valve
"4Matic" Offers FEP / PFA Lined Butterfly Valve for Corrosive Application. The FEP / PFA Seat Lined Covers the entire Wetted Surface of the body and Extends on to the Flanged Contact face – thus eliminating possibility of any media contact with the body.
Standard
Design And Manufacturing
API 609 category A/BS 5155 / MSS SP-67 / C-504
Valve Face To Face Dimension
Short wafer as per ISO 5752 Tab 5 / API 609 Category A
Flange Standard Conformity
ISO 5211 Part II
Inspection & Testing
API 598 / BS 6755 / FCI-702
Top Flange Driling
ANSI 150, DIN PN 10 / 16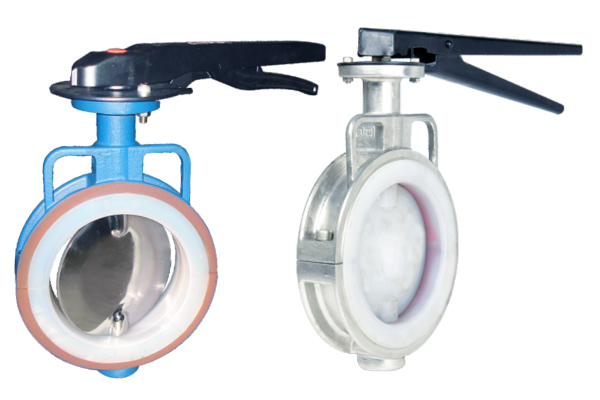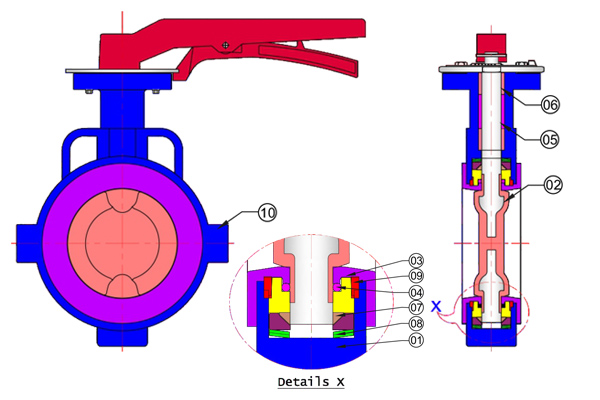 | | | | |
| --- | --- | --- | --- |
| No. | Description | Material | Qty. |
| 1 | Body | C.I. / C.S. / CF8 / CF8M | 01 |
| 2 | Disc | C.I. / C.S. / CF8 / CF8M | 01 |
| 3 | Sleeve | FEP / PFA | 01 |
| 4 | 'O' Ring | Viton | 02 |
| 5 | Bush | PTFE | 02 |
| 6 | Bush | Metal Bush S.S. 304 | 02 |
| 7 | Truth Bush | S.S. 304 | 02 |
| 8 | Washer | Spring Steel | 04 |
| 9 | Gasket | Silicon Big | 02 |
| 10 | L. N. Bolt | S.S. 304 | 02 |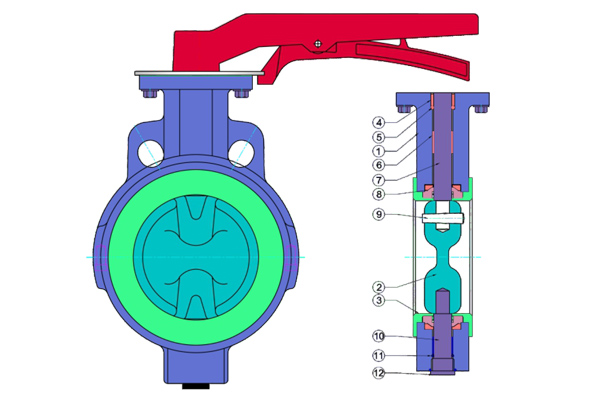 | | | |
| --- | --- | --- |
| No. | Description | Material |
| 1 | Body | C.I. / D.I. / CF8 / CF8M |
| 2 | Disc | C.I. / I.I. / CF8 / CF8M |
| 3 | Seat | PTFE |
| 4 | Collar | PTFE |
| 5 | "O" Ring | Viton |
| 6 | Metal Bush | PTFE Coated |
| 7 | Top Shaft | AISI 410 |
| 8 | Pad | Silicon |
| 9 | Disc Pin | S. S. 304 |
| 10 | Bottom Shaft | AISI 410 |
| 11 | "O" Ring | Viton |
| 12 | Plug | M. S. |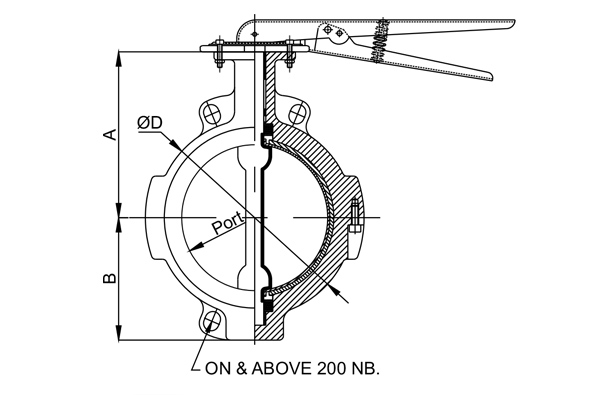 Dimensions : (All Dimensions are in mm)
Valve Model
Valve Size
Port
A
B
F to F
ØD
MM
Inch
4M-BF-LV-50
50
2″
48
107
65
44
101
4M-BF-LV-65
65
2.1/2″
62
118
65
46
112
4M-BF-LV-80
80
3″
78
122
83
46
130
4M-BF-LV-100
100
4″
98
153
98
52
163
4M-BF-LV-125
125
5″
—-
—-
—-
—-
—
4M-BF-LV-150
150
6″
148
193
122
57
218
4M-BF-LV-200
200
8″
196
223
167
63
273
4M-BF-LV-250
250
10″
—-
—-
—
—-
—-
4M-BF-LV-300
300
12″
291
271.5
244.5
78
380