"4Matic" Make High Filtration Reliability: Automatic backwashing of centrifugal disc achieves more effective and more reliable filtration effect; it is more water-saving, energy-saving and generates lower maintenance costs. The key to its unique design lies in the highly precise grooved laminations and spiral discs on the bottom of the laminations. Low Maintenance Costs: The Automatic Back washing Centrifugal Filtration System with HDPE can minimize the filtration system maintenance costs to the hilt.
Many Types of Combination: Have different types of combinations according to the filter level, pipe diameter, and interface means.Strong Corrosion Resistance and Durability: Composite pipes made of HDPE have resistance to corrosion and oxidation ofvarious chemicals. They are suitable for filtration of all kinds of water sources for industrial use, agriculture, urban construction andlandscape and can work in a variety of harsh environments. Easy and Quick to Install: High-density polyethylene pipes (HDPE) are light, and are easy to install and maintenance. They are suitable for bayonet, flange and other quick connection methods.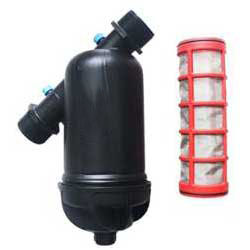 Advantages of Lamination Filters:
Stable filtering effect
Deep filtration, outstanding trash holding abilities
Simple operation, easy maintenance
Low system operating costs, reliable performance, over 10 years of service life
All-plastic Laminated Filter:
Accurate Filtration: Can choose filter discs of different precision according to the requirements of water; there are a variety of specifications for option. Efficient Cleaning: High-speed and thorough back washing can be completed in only 20 seconds. Automatic Operation, Continuous Water Yielding: In the filter set, the back washing process turns alternately; work and back washing state switch automatically, which can ensure continuous water yielding and small system pressure loss. Standard: Standard modular system design, choose based on demand, flexible and changeable, strongly interchangeable. Non-standard: Can flexibly use the corner space, install according to local conditions, cover a small footprint. Reliable Operation, easy maintenance, almost need no routine maintenance, no need to use special tools, few spare parts Long Service Life: high-tech plastic filter element, solid, no wear, no corrosion; years of industrial practice verifies that the filtration and back washing effect will not become poorer as the use time becomes longer.
A laminated filter has the following characteristics:
Laminated filters have a larger filtration surface area among filter equipment of the same volume; Flow resistance is small, and therefore the operating costs are lower; Impurity retention space is large, which means that the frequency of back washing is low. Just need to turn the tank gently for several times in the case of back washing, no disassembly, can be completed in dozens of seconds.