Spherical Disc Valve High Performance Butterfly Valve
Precise & Strong Durable to 240 °C / 600 °C Temperature and 10 Kg/cm2 / 20 Kg/cm2 Pressure
5 Special Effects.
Compact Design – Full Port – Offers Mass Flow
Simple Structure, Light & Smooth – Takes Very Short Time For Opening & Closing With Very Low Torque
Easy Maintenance – Replaceable Seals Design
Self Sealing – Self Cleaning The Under Cut Disc Segment And Seal Tends To Wipe Away The Material Form The Sealing Area,
Gland Pressing Plate – Ensure Compete Utilization of Gland Seals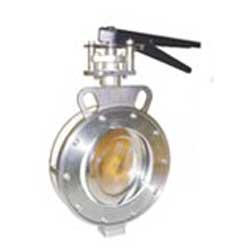 Application
Hygienic Powder & Slurries, especially in Pharmaceutical Industries.
Chemical and Dyeing Fluids in Textile Processing Brine Waters & Oils.
Steam Lines, Air / Gas Lines / Vacuum.
Spherical Disc Valve has been Proved as Superior to Other Valves in Many Aspects, Particularly in…
Weight
Space
Pressure Range
Multiple Operations
Maintenance Ease
Torque & Economy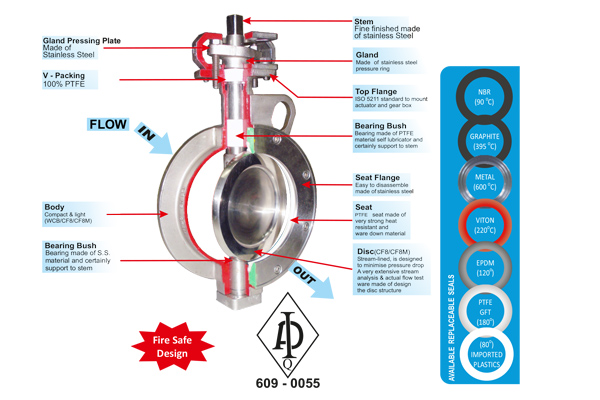 Spherical Disc Valve
Technical Specifications 
Size Range
1.1/2″ to 36″
Construction Type
Double Eccentric Disc Design
Body
WCB / CF8 / CF8M
Disc
CF8 / CF8M
Seat
PTFE (available EPDM / Metal to Metal )
Shaft
AISI 410 / 304 / 316
Plate Mounting
Namur Standard
Pressure Rating
ANSI 150 Class
End Connection
ANSI 300 / 600 Class
Wafer Sandwiched
Lug Type
Operating Temp. Range
-25 °C to 180 °C (Soft Seating)
-25 °C to 600 °C (Metal to Metal Seating)
Operating
Hand Lever, Worm Gear Box,
CV Value in GPM
Valve Size
CV Full Open 90° (GPM) Class  150
MM
Inch
(40)
1.1/2″
70
(50)
2″
92
(65)
2.1/2″
150
(80)
3″
260
(100)
4″
460
(125)
5″
760
(150)
6″
1350
(200)
8″
2200
(250)
10″
3200
(300)
12″
4700
(350)
14″
5800
(400)
16″
8000
(450)
18″
10500
(500)
20″
14000
(600)
24″
21000
(650)
26″
23400
(700)
28″
27000
(750)
30″
33300
(800)
32″
40200
(900)
36″
56500
CV Value in GPM
Valve Size
Differential Pressure (AP)
MM
Inch
5 Kg/cm2
10 Kg/cm2
15 Kg/cm2
20 Kg/cm2
(40)
1.1/2″
0.8
1.0
1.2
1.5
(50)
2″
0.9
1.2
1.5
1.7
(65)
2.1/2″
1.6
2.2
2.4
3.0
(80)
3″
3.0
3.4
4.2
5.0
(100)
4″
4.0
4.6
5.4
6.4
(125)
5″
5.8
8.0
9.5
11.5
(150)
6″
9.0
11.5
12.5
14.5
(200)
8″
14.0
17.5
24.0
28.0
(250)
10″
23.5
26.5
28.0
30.0
(300)
12″
32.0
36.0
40.0
50.0
(350)
14″
50.0
65.0
83.5
108.5
(400)
16″
69.4
94.5
120.0
160.0
(450)
18″
95.5
128.0
157.2
205.0
(500)
20″
122.5
193.3
210.0
293.4
(600)
24″
213.3
293.4
366.7
440.1
(650)
26″
265
350
400
510
(700)
28″
300
395
480
595
(750)
30″
321
420
519
617
(800)
32″
481
630
780
920
(900)
36″
518
663
850
992
| | | |
| --- | --- | --- |
| Standards | Series 5150 (40 NB To 600 NB) | Series 6150 ( 650 NB To 1200 NB) |
| Design and manufacturing | API 609 Category B | MSS SP – 68 |
| Valve face to face dimensions | API 609 Category B / ANSI B 16.10 | ISO 5752 Series 20, MSS SP – 68 |
| Flange Standard conformity | ANSI B 16.5 Class 150 | ASME / ANSI B 16.47 Series 'A' |
| Inspection & testing Standard | API 598 / ANSI FCI 70 – 2 | API 598 / BS 6755 |
| Fire safe testing | API 607 | API 607 |
| Pressure temperature rating | ASME / ANSI B 16.34 | ASME / ANSI B 16.34 |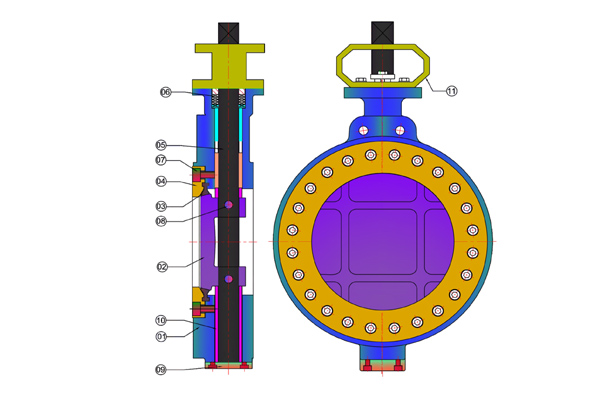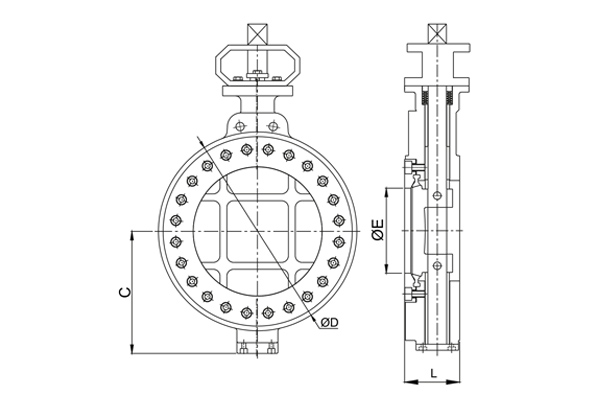 | | | |
| --- | --- | --- |
| No. | Description | Material |
| 1 | Body | ASTM A 216 Gr. WCB / A 351 Gr. CF8 / CF8M |
| 2 | Disc | ASTM A 351 Gr. CF8 / CF8M |
| 3 | Disc Seal Ring | PTFE / GFT |
| 4 | Retainaer | M.S / S.S 304 / 316 |
| 5 | Shaft | S.S 410 / S.S 304 /316 |
| 6 | Stem Shaft | PTFE / GFT |
| 7 | Disc Pin | S.S |
| 8 | Steam Plate | S.S 304 / 316 |
| 9 | Shaft Bush | M.S / S.S 304 / 316 |
| 10 | Gland Plate | M.S / S.S 304 / 316 |
| 11 | Body Seat Ring | M.S. |
Dimensions : 150# (All Dimensions are in mm)
Valve Model
Valve Size
L
C
ØE
ØD
Weight
(Approx)
MM
Inch
4M-SDV-40
40
1.1/2″
42
57
38
82
1.600
4M-SDV-50
50
2″
45
68.5
50.8
95
2.200
4M-SDV-65
65
2.1/2″
48
74.5
60.6
108
3.000
4M-SDV-80
80
3″
48
80
72
127
3.800
4M-SDV-100
100
4″
54
96
100
159
5.600
4M-SDV-125
125
5″
57
117
123
186
7.700
4M-SDV-150
150
6″
57
132
143
217
10.400
4M-SDV-200
200
8″
64
157
192
270
15.000
4M-SDV-250
250
10″
72
187
239
322
25.750
4M-SDV-300
300
12″
82
218
290
382
36.000
4M-SDV-350
350
14″
92
242
335
436
46.900
4M-SDV-400
400
16″
102
270.5
387.5
495
66.850
4M-SDV-450
450
18″
114
362
425
540
117.000
4M-SDV-500
500
20″
127
400
475
595
146.500
4M-SDV-600
600
24″
154
454
560
705
290.000
4M-SDV-650
650
24″
165
478
608
755
360.000
4M-SDV-700
700
26″
165
505
661.5
810
390.000
4M-SDV-750
750
28″
190
542
696
855
475.000
4M-SDV-800
800
30″
190
580
755
913
524.000
4M-SDV-900
900
32″
203
640
864
1032
675.000
Spherical Disc Valve "Wafer Type" High Performance Butterfly Valve 300 Class
Size Range : 1.1/2″ to 24″
Standard
Design And Manufacturing
API 609 Category "B"
Valve Face To Face Dimension
API 609 Category "B"
Flange Standard Conformity
ASME / ANSI B 16.5 Class 300
Inspection & Testing
API 598
PRESSURE / TEMPERATURE RATING
PRESSURE
300# Pressure Rating
Temperature
180 °C
Seat Pressure
57 Kg/cm2
Shell Pressure
79 Kg/cm2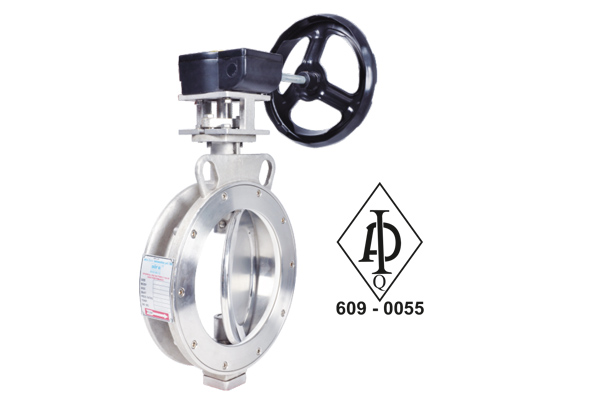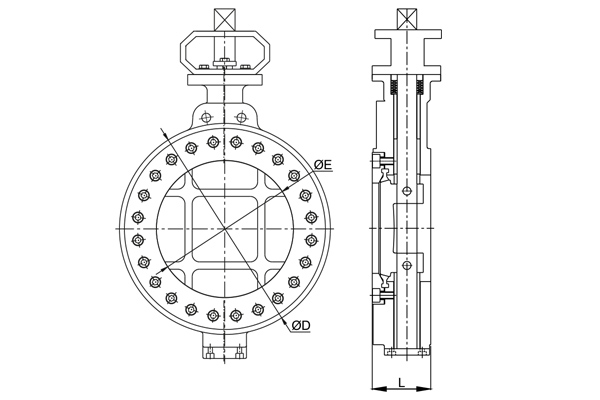 Dimensions : 300# (All Dimensions are in mm)
Valve Model
Valve Size
L
ØD
ØE
MM
Inch
4MSDV-3-40
40
1.1/2″
42
88
38
4MSDV-3-50
50
2″
45
101
50.8
4MSDV-3-65
65
2.1/2″
48
108.5
60.6
4MSDV-3-80
80
3″
48
127
72
4MSDV-3-100
100
4″
54
159
100
4MSDV-3-125
125
5″
59
187
123
4MSDV-3-150
150
6″
59
219
143.2
4MSDV-3-200
200
8″
64
270
192
4MSDV-3-250
250
10″
87
340
239.2
4MSDV-3-300
300
12″
92
394
290
4MSDV-3-350
350
14″
117
436
335
4MSDV-3-400
400
16″
133
500
387.5
4MSDV-3-450
450
18″
149
540
425
4MSDV-3-500
500
20″
159
595
475
4MSDV-3-600
600
24″
181
705
560
| | | |
| --- | --- | --- |
| No. | Description | Material |
| 1 | Body | ASTM A 216 Gr. WCB A 351 Gr. CF8 / CF8M |
| 2 | Disc | ASTM A 351 Gr. CF8 / CF8M |
| 3 | Replaceable Seat | PTFE / GFT |
| 4 | Retainer | M.S. / S.S. 304 / 316 |
| 5 | Shaft | S.S. 410 / S.S. 304 / 316 |
| 6 | Gland Packing | PTFE / GFT |
| 7 | Retainer Bolt | S.S. |
| 8 | Disc Pin | S.S. 304 / 316 |
| 9 | Steam Plate | M.S. / S.S. 304 / 316 |
| 10 | Shaft Bush | M.S. / S.S. 304 / 316 |
| 11 | Bracket | M.S. |