"4Matic" Make Air valves are made from high strength PA Material, the size is from 1" to 2.5". When it combined with hydraulic control valves, it will optimize the comprehensive controller of pipeline systems, it used for various of delivery systems, sewer system, sewer and waste water systems.
Working Principle :
When gas enter in the air evacuation valve cavity and gather tin the top of valves with the increasing of the gas, the system pressure, the air eill make water surface fall down , as well as the float , then the air-vents are opened; gas drained, the water level rises float will also rise, close the vents. When the system has negative pressure, the ater surface of cavity falls down, the vents are opened t the time the pressure outside is greater than system pressure, so the air will enter into system through vents, to prevent the system from negative pressure.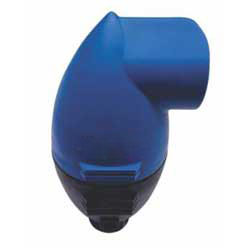 Products Feature :
Environmental, high temperature resistant, not easy to deformation
High corrosion resistance and good sealing
Releasing large volume of air from pipelines when filling
Preventing mud and debris or particle from sucking back into pipelines
Protecting irrigation systems and components
Removeable top cap convenient for seal maintenance.
Adavantages :
light weight, convenient handling and corrosion-resistant
chemical stability , fluid resistance
anti-aging, long life
Healthy and non-toxic, free of stain and scale
Smooth inner wall ,reducing pressure loss and increasing flow speed
Low noise ,reduced by 40% compared to galvanized steel pipes
Soft colors and excellent design, suitable for installation either exposed or hidden
 Easy and fast installation, making cost minimized
 Ball valve ,plastic ball valve, pvc ball valve
A. When the line is drained through drainage valves with defined location and size.
B. When the line bursts along its length; its bursting up to a pre-determined size and the free drainage of water out of the line through the burst.
C. When there is water column separation and the consequential extreme changes in the regimen of water flow through the pipe
The required air flow rate and the air valve diameter are determined in accordance with the objective sought when installing the air valve and as explained below :
If the purpose of the air valve is only to limit filling velocity – the required air release velocity is equal to the filling rate (for the system), which is a function of the required filling rate.
If the purpose of the air valve is to protect the system in the event of a burst, which splits the pipe across its entire cross section, with consequential free-flowing drainage of the line, the accepted method is to determine the required rate of air intake according to a burst analysis based on one of the flow equations.
Installation of Air Valves:-
The air valve must be install vertically, to ensure the float inside be in the vertical state, in case to effect air release.
It is better to be installed together with block valve, to ensure the tightness of the system and prevent water to flow cut