"4Matic" Make High quality ABS knife gate valve, Inexpensive valves for Industrial, Agricultural and Commercial markets. Ideal for quic shut- off in low pressure or vacuum lines. We specialize in economical knife gate valves which are ideal for drain applications that require quick shut-off in low pressure or vacuum systems. Applications include waste water control, septic systems, irrigation, aquaculture, pools, spas, IBC, tank drains, and carpet/extraction equipment. Ball valves, swing check valves and swing/spring combo check.
Pressure / Temperature
MAXIMUM PRESSURE OPEN
140 kPa
MAXIMUM PRESSURE CLOSE
275 kPa
WEIGHT
2.1 Kg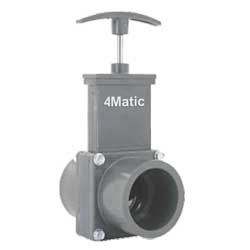 This valve is used for draining the stagnant water inside of the rainwater wet system. It is a valuable purchase allowing the user to quickly and easily drain the wet system without getting wet! Simply raise the plunger upwards handle with ease and the water drains from the system quickly. The valve is 90mm diameter internally allowing the water to drain at high speed. This helps to flush out the leaves and sludge which has accumulated in the bottom of the pipes. Simply install a T-junction into the wet system pipe work at the lowest point possible. The Gate Valve can then be glued into the junction. For best results, fill the wet system from the gutter outlet and drain the gate valve several times until the water runs out clean and clear.
Material & General Specifications
Size
1.1/2″ (50mm)
2″ (63mm or 75/90mm)
3″ (90mm)
4″ (110mm)
6″/8″ (160/200mm)
10″ / 12″
Color
White or Black (Gray)
White or Black (Gray)
White or Black (Gray)
White (Gray)
White (Gray)
White
Hubs
PVC or ABS (PVC)
PVC or ABS (PVC)
PVC or ABS (PVC)
PVC (PVC)
PVC
PVC
Body
PVC or ABS (PVC)
PVC or ABS (PVC)
PVC or ABS (PVC)
PVC (PVC)
ABS
ABS
Shaft
304SS
304SS
304SS
304SS
304SS
304SS
Paddle
Polypro
Polypro or 304SS
Polypro or 304SS
304SS
304SS
304SS
Handle
Plastic or Die Cast Al
Plastic or Die Cast Al
Plastic or Die Cast Al
Die Cast Al
304SS
304SS
Seals
Sarlink
Sarlink
Sarlink
Sarlink
Sarlink
Sarlink
Max PSI Open/Closed
45/100
40/80
30/30
20/40
10/20
10/15
Mid-Flow Max Closing Pressure
6 psi
1 psi (PP) 15 psi (SS)
.5 psi (PP) 9 psi (SS)
8 psi
2.5 psi
2.5 psi
Air Cylinder
Reinforced Nylon
Metal or Reinforced Nylon
Metal or Reinforced Nylon
Metal
Metal
Metal
Notes : Vacuum Applications: 1.1/2″ to 4″ tested to 26 Hq in. when requested by customer Metric Valves are Gray PVC
Valve Size
DN

±2 mm

L

±3 mm

1.1/4″ (32 mm)
32
68
1.1/2″ (40 mm)
40
98
2″ (50 mm)
50
108
2.1/2″ (65 mm)
65
124
3″ (80 mm)
80
128
4″ (100 mm)
100
132
| | | |
| --- | --- | --- |
| Sr. No. | PART | MATERIAL |
| 1 | Body | UPVC |
| 2 | Wedge | UPVC |
| 3 | Seat | EPDM / Viton |
| 4 | Stem | Cr13 |
| 5 | Handle | ABS |