4Matic Valves aspires to provide its clients with superior quality FEP / PFA / PTFE Lined Plug Valves. These valves are meant for very corrosive applications, in case of which higher alloy materials are more expensive as compared to lined ones. The PTFE sleeve provides for a lower coefficient of friction and thereby offers better lubrication. These valves become a protecting source for the equipment that is costlier, by increasing its working life as well as ensuring better functioning. The choice of material for fluorocarbons lining of valves is governed by operating conditions such as, chemical and mechanical features of the fluid passing through the pipeline.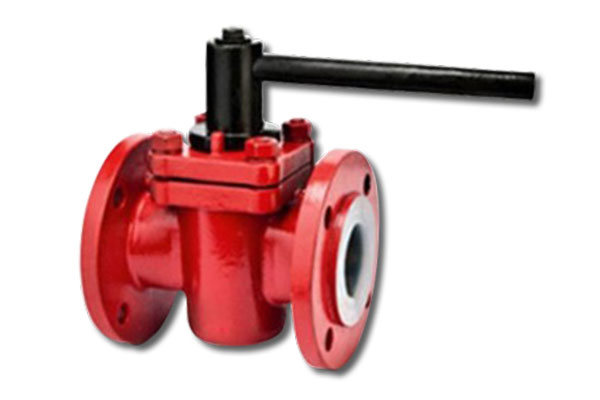 4Matic Lined Plug Valves are generally made use of in nuclear applications, Chlorine service, as well as sulphuric acid processes. It is a proven fact that 4Matic Plug valves give top line functioning in numerous industries. These multi- purpose valves from 4Matic are known for their top grade functioning, cost effectiveness on maintenance as well as long working life.
Suited for various industrial applications we offer Lined Plug Valves with Hand Lever operation, Gear Box operation, Pneumatic (Single Acting and Double Acting) Actuator operation as well as electrical actuator operated motorized valves for proportionate control. Size Range: ½" (15MM) to 8" (200mm).
| | |
| --- | --- |
| Size Range: | ½" (15MM) to 8" (200mm). |
TECHNICAL SPECIFICATION
BODY
SG Iron, ASTM A 216 Gr. WCB, ASTM A 351 GR CF8 / CF8M (PFA / FEP LINED)
PLUG
ASTM A 216 Gr. WCB, ASTM A 351 GR CF8 / CF8M (PFA / FEP LINED)
LINING MATERIAL
PFA / FEP
DESIGN
SINGLE PIECE DESIGN AS PER BS-5351 )
TEMPERATURE
UPTO 220° C
ENDS
FLANGED END AS PER ANSI B 16.5 (150#)
Dimensions are in mm
| | | | | | | | | | | | |
| --- | --- | --- | --- | --- | --- | --- | --- | --- | --- | --- | --- |
| SIZE | Tolerance | 15 | 20 | 25 | 40 | 50 | 80 | 100 | 150 | 200 | 300 |
| NB | ±0.5 | 12.5 | 19 | 25 | 38 | 50 | 76 | 100 | 150 | 200 | 300 |
| L | ±5 | 108 | 118 | 127 | 165 | 178 | 203 | 229 | 267 | 297 | 355 |
| D | ±0.5 | 89 | 98 | 108 | 127 | 152 | 190 | 229 | 280 | 343 | 483 |
| d | ±0.5 | 35 | 43 | 51 | 73 | 92 | 127 | 157 | 216 | 268 | 370 |
| | | |
| --- | --- | --- |
| SR. | PART NAME | MATERIAL |
| 1 | BODY | GR. Cll DllWCB ISS+ PFAIFEP LINED |
| 2 | LINING MATERIAL | PFAIFEP |
| 3 | PLUG | Dl/ WCB ISS + PFAIFEP LINED |
| 4 | DIAPHRAGM | PTFE |
| 5 | SHIM | SS304 |
| 6 | WEDGE RING | PTFE |
| 7 | WASHER | PTFE |
| 8 | THRUST COLLAR | SS304 |
| 9 | COVER PLATE | GR. Cll DllWCB ISS |
| 10 | ADJUSTING NUT | SS304 |
| 11 | HANDLE ROD | MS/SS |
| 12 | HANDLE CAP | MS/SS |
| 13 | FASTENERS | MS/SS |