"4Matic" offers Manual (Gear / Handle) Flanged End Butterfly Valve, engineered for multiple ON/OFF operations in the larger pipe line and full flow down streams.
PRESSURE / TEMPERATURE RATING
PRESSURE
TEMPERATURE
PN 10 / PN 16 ( PN 20 ON REQUEST)
-20 to 80 °C For Nitrile Seat 

Depending On MOC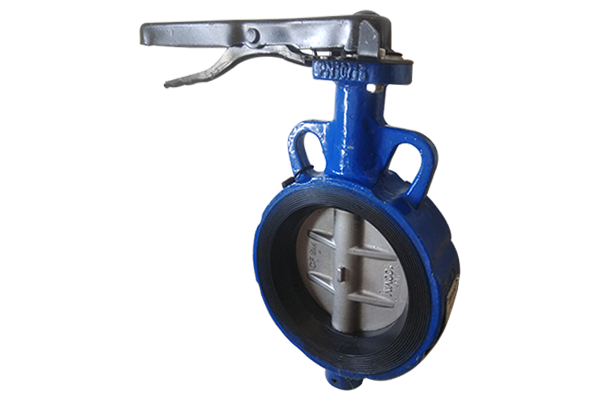 Key Feature :
Integrally moulded seat liner on the body, which ensures excellent dimensional stability & guaranteed seat tightness.
Seat liner extending on to the contact faces ensures perfect sealing and eliminates the need for separate flange gaskets.
Narrow land disc ensures perfect sealing with least operating torque requirements.
A fully universal body design ensures fitting of the valve between companion flanges of all popular standards (viz : ANSI, BS, DIN,JIS, IS etc.)
The notch disc & band lever ensures locking of the valve in 8 intermediate position in addition to close and open position. Hand lever can be locked through pad lock.
Body casting made of superior FG 260 grade cast iron to ensure additional strength.
Valve disc made of stainless steel / ductile cast iron which enable protection against possible water hammer or pressure surges.
A truly line size body bone to ensure maximum flow capacity with the lowest pressure drop.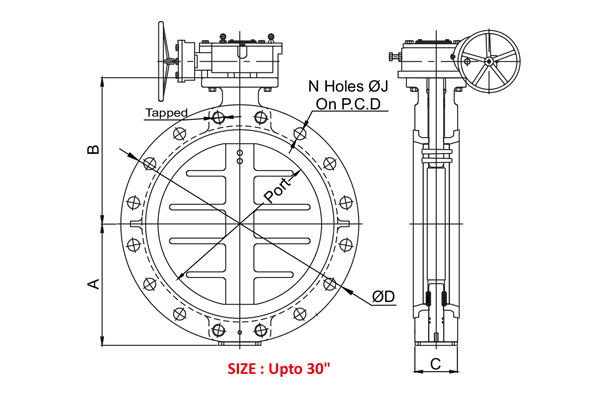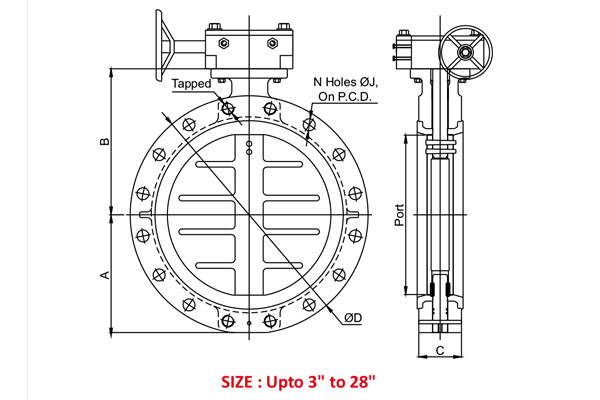 TEST PRESSURE
TESTING
BODY
SEAT
HYDRAULIC
20 KG/CM2
11 KG/CM2
PNEUMATIC SEAT PRESSURE
6 KG/CM2
SPARK TEST – 15 KV D. C.
Note : (Valve F to F will be as per Wafer type) (Flange Thickness Non – STD As per Mfg. Std Wafer short Wafer End Body)
Dimensions : (All Dimensions are in mm)
Valve Model
Valve Size
PORT
A
B
C
ØD
N
ØJ
Tapped
PCD
MM
INCH
4M-DF-ECO-80
80
3″
80
95
129
46
190
4
19.05
–
152.4
4M-DF-ECO-100
100
4″
100
113
147
52
230
8
19.05
—
190.5
4M-DF-ECO-150
150
6″
150
136
177
56
280
8
22.2
—
241.3
4M-DF-ECO-200
200
8″
200
174
214
60
345
8
22.2
—
298.5
4M-DF-ECO-250
250
10″
241
201
265
68
405
12
25.4
—
362
4M-DF-ECO-300
300
12″
286
236
303
78
485
12
25.4
—
431.8
4M-DF-ECO-350
350
14″
333
248
345
78
535
12
28.6
—
476.3
4M-DF-ECO-400
400
16″
382
300
364
102
595
16
28.6
—
539.8
4M-DF-ECO-450
450
18″
433
322
381
114
635
16
31.75
1″ UNC
577.9
4M-DF-ECO-500
500
20″
476
354
436
127
700
20
31.75
1″ UNC
635
4M-DF-ECO-600
600
24″
590
405
515
154
815
20
34.9
1.1/4″ UNC
749.3
4M-DF-ECO-650
650
26″
635
435
490
165
870
24
34.9
1.1/4″ UNC
806.4
4M-DF-ECO-700
700
28″
680
462
543
165
925
28
34.9
1.1/4″ UNC
863.6
4M-DF-ECO-750
750
30″
725
482
576
190
985
28
34.9
1.1/4″ UNC
914.4
4M-DF-ECO-800
800
32″
785
533
618
190
1060
28
41.3
1.1/2″ UNC
977.9
4M-DF-ECO-900
900
36″
885
576
675
203
1170
32
41.3
1.1/2″ UNC
1085.8
4M-DF-ECO-1000
1000
40″
965
640
720
216
1290
36
41.3
1.1/2″ UNC
1200.2
4M-DF-ECO-1200
1200
48″
1170
750
865
254
1510
44
41.3
1.1/2″ UNC
1422.4
Standard
Design And Manufacturing
API 609 category A / IS : 13095 / BS EN 593
Valve Face To Face Dimension
Short Wafer As Per ISO 5752 TAB 5 / API 609 Category A /ISO 5752 TAB 1 (BS 5155)
Flange Standard Conformity
Short Wafer As Per ISO 5752 TAB 5 / API 609 Category A /ISO 5752 TAB 1 (BS 5155)
Inspection & Testing
API 598 / BS EN 12266-1
Top Flange Driling
ISO 5211
TEST PRESSURE
TESTING
BODY
SEAT
HYDRAULIC
16 kG/CM2
10 kG/CM2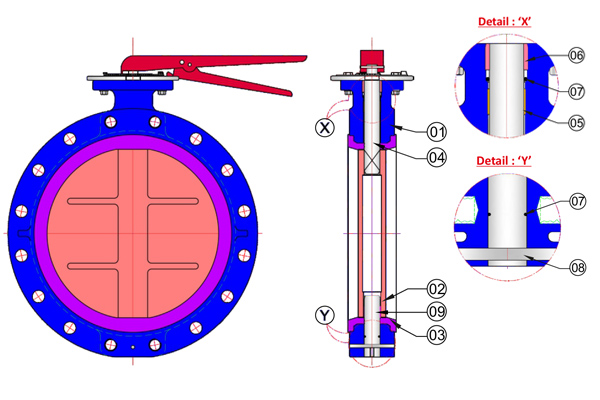 No.
Description
Material
Qty.
1
Body
ASTM – A 126 Grade B ( Gray Iron )
1
ASTM – A 216 Grade WCB ( Cast Steel )
ASTM – A 536 Grade 65-45-12 ( Ductile Iron )
ASTM – A 351 Grade CF8 / CF8M / CF3M / CD4MCuN
2
Disc
ASTM – A 126 Grade B ( Gray Iron ) + Powder Coated
1
ASTM – A 216 Grade WCB ( Cast Steel ) + Powder Coated
ASTM – A 536 Grade 65-45-12 ( Ductile Iron ) + Powder Coated
ASTM – A 351 Grade CF8 / CF8M / CF3M / CD4MCuN
S.G. Iron with Powder / Nylon Coated & Rubber Line
3
Seat
Nitrile / EPDM / Viton / Hypelon / Silicon / Neopren
1
4
Shaft
AISI 410 / AISI 304 / AISI 316 / AISI 316L
1
5
Bearing Bush
Metal Bush PTFE Coated
2
6
Bush
PTFE
1
7
'O' – Ring
Nitrile / EPDM / Viton / Hypelon / Silicon / Neopren
2
8
Dowel Pin
M.S. / AISI 410 / AISI 304 / AISI 316 / AISI 316L
1
9
Bottom Pin
AISI 410 / AISI 304 / AISI 316 / AISI 316L
1
No.
Description
Material
Qty.
1
Body
ASTM – A 126 Grade B ( Gray Iron )
1
ASTM – A 216 Grade WCB ( Cast Steel )
ASTM – A 536 Grade 65-45-12 ( Ductile Iron )
ASTM – A 351 Grade CF8 / CF8M / CF3M / CD4MCuN
2
Disc
ASTM – A 126 Grade B ( Gray Iron ) + Powder Coated
1
ASTM – A 216 Grade WCB ( Cast Steel ) + Powder Coated
ASTM – A 536 Grade 65-45-12 ( Ductile Iron ) + Powder Coated
ASTM – A 351 Grade CF8 / CF8M / CF3M / CD4MCuN
S.G. Iron with Powder / Nylon Coated & Rubber Line
3
Seat
Nitrile / EPDM / Viton / Hypelon / Silicon / Neopren
1
4
Shaft
AISI 410 / AISI 304 / AISI 316 / AISI 316L
1
5
Bearing Bush
Metal Bush PTFE Coated
2
6
Bush
PTFE
1
7
'O' – Ring
Nitrile / EPDM / Viton / Hypelon / Silicon / Neopren
2
8
Dowel Pin
MS / AISI 410 / 304 / 316 / 316L
1
9
'V' Seal
Nitrile / EPDM / Viton / Hypelon / Silicon / Neopren
1
10
Taper Pin
AISI 410 / AISI 304 / AISI 316 / AISI 316L
2
11
Bottom Pin
AISI 304 / AISI 316 / AISI 316L
1