Connection Type :  BSP inner screw thread / FLANGED END
Valve Body Material : glass fiber reinforced nylon
Working Data :
Pressure bearing capacity : 1.0MPa
working pressure : 0.07MPa
3 Flow range : 10-40m/H
Electric and Hydraulically Operated Valves :
This pressure reducing valve is a hydraulically operated, diaphragm actuated control valve that accurately reduces higher upstream pressure to very low and stable preset downstream pressure regardless of fluctuating demand or varying upstream pressure. This valve is normally fully open but shuts automatically off upon line pressure increase. All accessories are made of metal, highly durable even under severe working conditions. It either opens or shuts in response to a remote pressure command.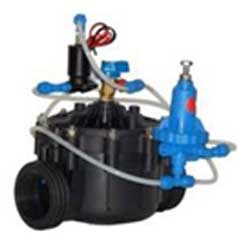 Features:
Manufactured in glass filled nylon material, resistant to chemicals used in agriculture.
For both vertical or horizontal installation.
Unitized Flexible Super Travel Diaphragm and Guided Plug.
Benefits :
No chattering and fast closing.
Accurate and stable regulation with smooth motion.
Ideal for low supplied pressure irrigation systems.
No diaphragm distorsion.
Spare parts, diaphragms and springs available in several models.
Designed to meet a broad flow rate and pressure range.
Our range of pressure reducing valves include :
Hydraulically operated pressure reducing valve – sizes from diameter 1″ to DN 150;
Electric pressure reducing valve with 3-way solenoid 24 V AC – sizes from diameter 1″½ to DN 150;
 Hydraulic pressure reducing valve – cost effective series – sizes 1″½ and 2″;
 Electric pressure reducing valve with 3-way solenoid 24 V AC – cost effective series – sizes 1″½ and 2″;
Typical Applications :
Computerized irrigation systems
Remote controlled irrigation systems
Buried distribution systems
Greenhouse irrigation
Low supplied pressure irrigation systems
Drip irrigation
End-line protection