4Matic triple eccentric butterfly valves are suitable for both throtting and positive isolation applications. These valves are capable of bi-directional flow control, zero leakage, low fugitive emissions and stream-based applications (up to 550.c)
Due to the triple offset sealing system, the disc moves smoothly and free of friction at all points along the specially designed body seat & disc seal.
When the disc is closed, the seal ring (on the disc) energises the seat (on the body) there by proving a snug – tight high – performance fit.
The laminar seal is constructed with grafoil layers sandwiched between metal laminations, Triple Offset Butterfly Valves. This resiliency of the seal flexes and energizes according to the compressive forces generated and allows for minor body deformations due to temprature fluctuations without the risk of jamming. This provides a uniform wedding effect and ensures bubble tight shut-off.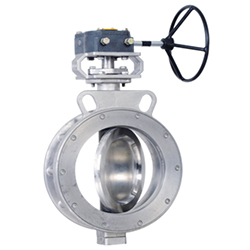 General information
Size Range : 2″ to 12″
Design And Manufacturer : API 609 category A / IS : 13095 / BS EN 593
Valve Face To Face Dimension : Short Wafer As Per ISO 5752 TAB 5 / API 609 Category A ISO 5752 TAB 1 (BS 5155)
Flange Standard Conformity : ASME B16.5 / 16.47 Series A Class 150, BS 10 TAB D,E & F
Inspection & Testing : API 598 / BS EN 12266 – 1
Triple Offset Butterfly Valve with Pneumatic Actuator
Size : 1½" to 12″
MOC : Aluminium Alloy
Seals : Nitrile / NBR / EPDM / Vilton
Pressure : PN 10 / 16
Temp. : Upto 180°c
Ends : Wafer Type
Triple Offset "WAFER TYPE" Butterfly Valve 150# ( Fire Safe Design )
"4Matic" offers Manual Worm Gear / Lever Operated Off – Set Disc Butterfly Valve in Wafer & Double Flange Construction engineered for multiply ON / OFF Operation in the large Pipe line and full flow down Stream.
Size Range : 2″ to 12″ ( 150# )
PRESSURE / TEMPERATURE RATING
PRESSURE
As Per 150# B16.34
TEMPERATURE
-550 °C ( Above 550 °C On Request )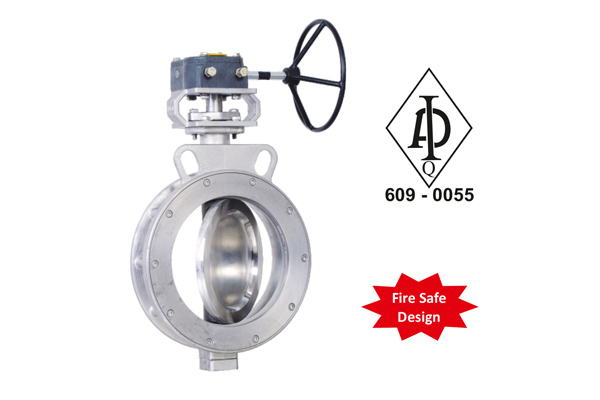 Standard
Design And Manufacturing
API 609
Valve Face To Face Dimension
API 609 Category "B"
Flange Standard Conformity
ASME / ANSI B 16.5 Class 150
Inspection & Testing
API 598
Leakage Class
ASME B 16, 16.104 Leakage Class VI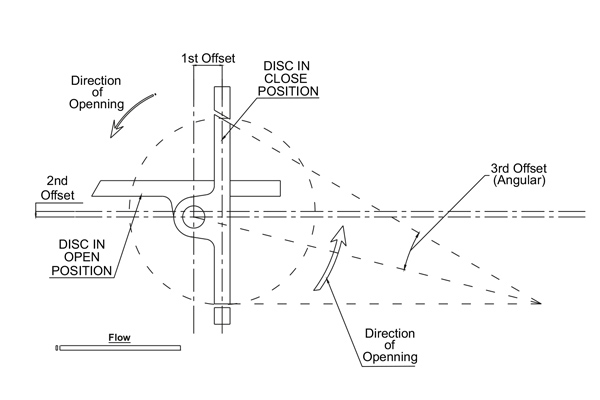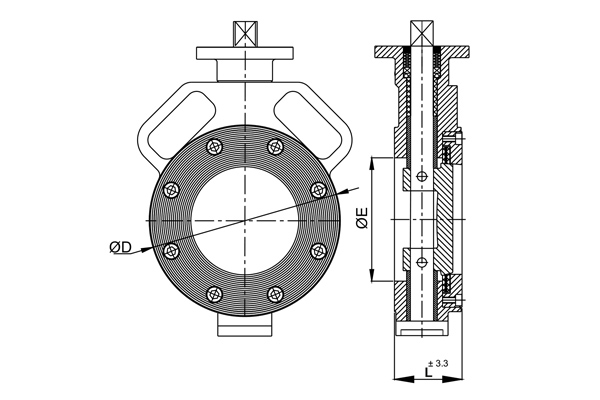 VALVE TORQUE 150#
Valve Size
5 Bar N – m
10 Bar N – m
20 Bar N – m
MM
Inch
50
2″
11
15
21
65
2.1/2″
20
28
38
80
3″
38
43
63
100
4″
50
58
80
125
5″
73
100
144
150
6″
113
144
181
200
8″
175
219
350
250
10″
294
331
375
300
12″
400
450
625
CV Values
Valve Size
10°
20°
30°
40°
50°
60°
70°
80°
90°
MM
Inch
50
2″
2
5
11
19
28
41
58
77
85
65
2.1/2″
2
9
20
28
45
60
80
120
130
80
3″
3
10
22
42
64
96
150
157
160
100
4″
6
17
41
75
116
174
273
284
290
125
5″
6
45
75
170
280
478
650
707
795
150
6″
7
51
119
221
340
510
799
833
850
200
8″
4
103
239
445
684
1026
1607
1676
1710
250
10″
50
151
353
655
1008
1515
2369
2470
2520
300
12″
79
236
552
1024
1576
2364
3704
3861
3940
Dimensions : (All Dimensions are in mm)
Valve Model
Valve Size
L
ØD
ØE
MM
Inch
4M-TO-HP-50
50
2″
47
95
50.8
4M-TO-HP-65
65
2.1/2″
52
108
60.6
4M-TO-HP-80
80
3″
52
127
72
4M-TO-HP-100
100
4″
57
159
100
4M-TO-HP-125
125
5″
60
186
123
4M-TO-HP-150
150
6″
60
217
143
4M-TO-HP-200
200
8″
67
270
192
4M-TO-HP-250
250
10″
72
322
239
4M-TO-HP-300
300
12″
75
382
290
Tag: Triple Offset Valve Manufacturer, Triple Offset Butterfly Valves Manufacturer, Supplier in India