Resilient Seated Wedge Gate Valve
Model : 4MRSGV
APPLICATIONS :
Chemical applications
Petrochemical plants
Oil Refineries
Power plants
Hot & Cold water applications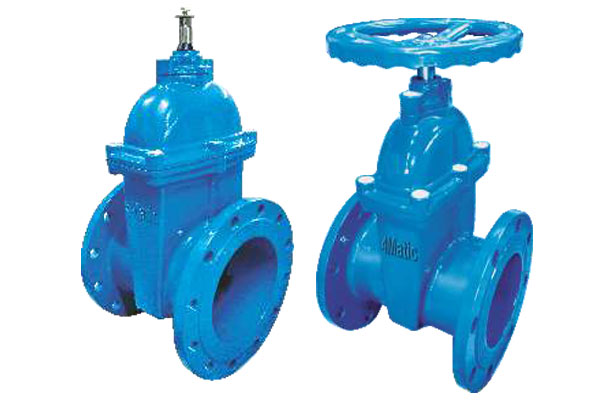 Design complies to EN1171 / EN1074 / BS5163
Flanges are drilled to EN 1092-2 / BS4504
Pressure Rate: PN10/16, (PN25 for DN40-200)
Test: Body test 1.5 x PN, Seat test 1.1 x P
Medium: Neutral water, Drinking water, Sewage
Rolled thread ensure smooth thread edges and low operating torques
Bonnet bolts are in galvanized carbon steel, SS304 upon reques
Thrust washer – Brass material, to get more reliable strength and long
service life when comparing to other factory's nylon mat
Body/bonnet connection bonnet gasket fits into a recess in valve bonnet
preventing it from being blown out by pressure surg
Wedge nut – made of copper alloy with lubricating ability providing
optimum compatibility with the stainless steel st
Bolts sealed with hot met
Lifting rings
Operation: Hand wheel, Square cap Gearbox, Actuator
Manufacturing standard meets BS EN 1074, BS5163.
Both inside & outside coated with epoxy resin powder.
Standard colour similar to RAL5005 other colours upon reques
With rubber dust cover
O-ring bonnet gasket wraps each bolt to prevent corr
Completely free and full bore self-clearing & low pressure loss.
Clockwise closing (CWC) as standar
Sealing Class A (zero leakage)
Resilient Gate Valve Details :
Design & Mfg. Std. : BS 5163
Face To Face : BS 5163
Flanged End : EN 1092-2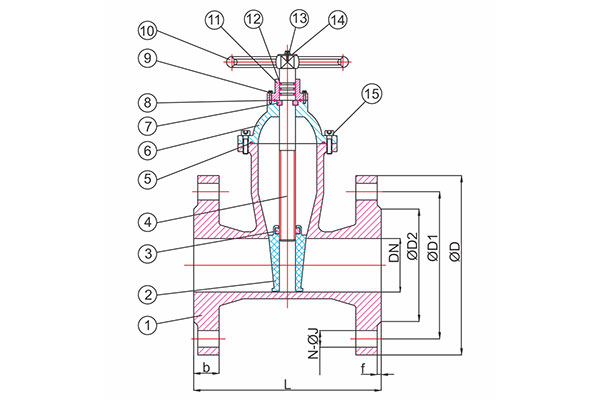 | | | |
| --- | --- | --- |
| No. | Description | Material |
| 1 | Body | Ductile Iron |
| 2 | Wedge | Ductile Iron+EPDM |
| 3 | Stem Nut | Brass |
| 4 | Stem | AISI 410 |
| 5 | Gasket | EPDM |
| 6 | Bonnet | Ductile Iron |
| 7 | Locating Ring | Brass |
| 8 | O Ring | EPDM |
| 9 | Bolts | Carbon Steel 8.8 |
| 10 | Hand Wheel/Cap | Ductile Iron |
| 11 | Gland | Ductile Iron |
| 12 | O-ring | EPDM |
| 13 | Nuts | Carbon Steel 4.8 |
| 14 | Washer | Carbon Steel 4.8 |
| 15 | Bolts | Carbon Steel 8.8 |
TEST PRESSURE
TESTING
BODY
SEAT
HYDRAULIC
15 kG/CM2
11 kG/CM2
Valve Size
Inch
DN
L
ØD
ØD1
ØD2
b
f
N-ØJ
Tolerance
±3.3mm
±2mm
±2mm
±3mm
±1mm
±1mm
2"
(50mm)
178
165
125
99
19
3
4-19
2.1/2"
(65mm)
190
185
145
119
19
3
4-19
3"
(80mm)
203
200
160
133
19
3
4-19
4"
(100mm)
229
220
180
154
19
3
8-19
5"
(125mm)
254
250
210
184
19
3
8-19
6"
(150mm)
267
285
240
210
19
3
8-23
8"
(200mm)
292
340
295
265
20
3
8-23
10"
(250mm)
330
405
350
319
22
3
12-23
12"
(300mm)
356
460
400
370
24.5
4
12-23
14"
(350mm)
381
520
460
429
26.5
4
16-23
16"
(400mm)
406
580
515
480
28
4
16-28
18"
(450mm)
432
615
565
548
30
4
20-28
20"
(500mm)
457
715
650
582
31.5
4
20-24
24"
(600mm)
508
780
725
682
36
5
20-31
Installation, Operation & Maintenance Instructions
STORAGE & HANDLING
If the valves are to be stored in the open for sometime, protection should be provided to keep the valves clear of sand and mud. Particular care should be taken to protect the seat. When off-loading valves, care must always be taken. Lifting the valves by use of a hand wheel where fitted is not acceptable. On no account should the valve be handled using the upper flanges. Valves should be lowered gently with care onto wooden battens placed on firm ground clear of mud and water.
INSTALLATION
The valve should be checked to ensure it is suitable for the service conditions e.g. pressure, temperature and service media. Remove all packing/protection material from the valve. Before installation examine the pipeline for impurities and foreign matter, removing and cleaning if necessary. The valves may be installed in horizontal pipework with the stem in the vertical position, or in vertical pipework with the stem horizontal. The valves should not be installed in horizontal pipework with the stem horizontal because shut off performance may be impaired. Consideration should be given to access for operation and maintenance. Valves installed outside will need protection against the direct effects of extreme weather conditions. Suitable flange gaskets should be used during installation of the valve. The distance between the pipe flanges should exceed the face to face dimension of the valve by at least 20mm. This will ensure that raised faces are not damaged and gaskets can be in serted. In accordance with good engineering practice mating flanges must be parallel and concentric. Bolt tightening must be even and diagonal to prevent distortion.
OPERATION
Resilient Seated Gate Valves are designed for On-Off service, regulating or throttling services should be avoided. They comply with both BS EN 1074 parts 1 & 2. The valve is closed by turning the operating element i.e. Cap-Top, Hand wheel or Extension Spindle in a clockwise or anti-clockwise direction, which is confirmed on the Identification label. Once installed operate the valve through its full extent of travel to check for ease of function.
OPERATION & APPLICATION
The valve should be operated by Hand wheel or Tee Key without applying excessive forces. Valves can also be fitted with correctly sized and fitted gearboxes or Actuators that should be specific for the process or duty. Gate Valves are designed to operate either in the fully closed or open positions, if used in an intermediate position this will lead to increased wear and therefore reduced life expectancy. Media temperature limitations should not be exceeded. The maximum pressure rating is that on a closed valve. Where EPDM is used as the sealing medium, oil or grease should not be allowed to come into contact as this will cause swelling in the EPDM.
MAINTENANCE
Resilient Seated Gate Valves are designed for underground use with minimum maintenance and requires no lubrication. Differing qualities or properties of the system media will require the valve to be regularly checked for ease of operation, at least every three years.
The valve should be at zero pressure and ambient temperature prior to any maintenance. Maintenance Engineers & Operators are reminded to use correct fitting tools and equipment. A full risk assessment and methodology statement must be compiled prior to any maintenance. The risk assessment must take into account the possibility of the limits of use being exceeded whereby a potential hazard could result. maintenance programmed should therefore include checks on the development of unforeseen conditions, which could lead to failure.
LEAKING GLAND
Operate the valve one full turn or more and return to the original position. If leaking persists the 'O' rings in the gland require replacing.
LEAKING BONNET GASKET/SEAL
If a body/bonnet seal leak exists, check that the bolts (item 4) are adequately tightened and re-tighten if necessary. If the leaking persists the body/bonnet seal (item 5) will need replacing.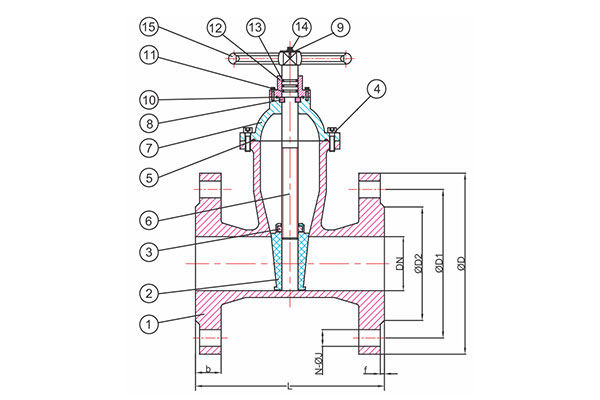 BODY/BONNET GASKET/SEAL REPLACEMENT
It is recommend that the valve is isolated from the system and valve is drained before carrying out this operation.
Operate the valve to mid-position.
Loosen and remove body/bonnet bolting (item 4).
Operate the valve to the closed position, (rotation of the hand wheel/cap top). When closed, operate the valve a further1/2 to 1 turn, this will break the bonnet seal
Open the valve to mid-position(rotation of hand wheel/cap top).
The complete bonnet sub-assembly including the valve wedge can then be lifted off the valve body.
Remove the body/bonnet seal (item 5) and ensure that both sealing faces are clean and free from damage.
Fit new body/bonnet joint (smear of silicon grease may be applied for assistance while fitting).
Fit the bonnet sub-assembly and tighten the bolting evenly, in a diagonal sequence.
Close and open the valve to check for satisfactory operation.
STEM 'O' RING REPLACEMENT :
Turn off circulating pumps.
Open the valve fully (the leaking should become minimal or stop completely).
Slacken the hand wheel or cap top retaining screw. (Item 14)
Remove the hand wheel or cap top from the stem (tapping underneath with a mallet may be necessary).
Remove locking pin from the Gland Bush (item 17)
Unscrew the Gland Bush (Anti-Clockwise). (Item 12)
Remove the Gland Bush from the stem.
Fit new stem 'O' rings and Gland Bush 'O' ring.(A smear of silicone grease may be applied to the 'O' rings while fitting). (Items 10 and 11)
Carefully refit the Gland Bush onto the stem, preventing 'O' ring damage.
Screw the Gland Bush down until tight (Clockwise).
Fit the locking pin in the Gland Bush
Fit the hand wheel or cap top.
Tighten the hand wheel or cap top retaining screw.
Close and open the valve to check for satisfactory operation.
| | | |
| --- | --- | --- |
| No. | Description | Material |
| 1 | Body | Ductile Iron QT450-12 to EN-GJS-450 |
| 2 | Wedge | EPDM Encapsulated Ductile Iron Wedge |
| 3 | Stem Nut | DZR Brass to BS EN 12165 CW602N |
| 4 | Cap screws | Stainless Steel A2 |
| 5 | Bonnet Gasket | EPDM to BS EN 681 |
| 6 | Stem | Stainless Steel 431 S29 |
| 7 | Bonnet | Ductile Iron QT450-12 to EN-GJS-450 |
| 8 | Seal | EPDM to BS EN 681 |
| 9 | Washer | PTFE |
| 10 | O- Rings | EPDM to BS EN 681 |
| 11 | O Ring | EPDM to BS EN 681 |
| 12 | Gland Bush | DZR Brass to BS EN 12165 CW602N |
| 13 | Wiper Ring | EPDM to BS EN 681 |
| 14 | Capscrew/Bolt | Stainless Steel A2 |
| 15 | Handwheel | Ductile Iron QT450-12 to EN-GJS-450 |