Resilient-Seated Butterfly Valves
Resilient-seated, butterfly valve for flange mounting to pipelines; concentric disc design; with replaceable liner. Suitable for use in cooling towers, waste-water applications, water treatment, water distribution, dams, gas main and service lines, pressure stations, gas storage tanks, power plants and gas pipelines industry.
Size Range : 3″ to 48″
Integrally moulded seat liner on the body, which ensures excellent dimensional stability & guaranteed seat tightness..
Seat liner extending on to the contact faces ensures perfect sealing and eliminates the need for separate flange gaskets.
Narrow land disc ensures perfect sealing with least operating torque requirements.
A fully universal body design ensures fitting of the valve between companion flanges of all popular standards (viz : ANSI, BS, DIN, JIS, IS etc.)
The notch disc & band lever ensures locking of the valve in 8 intermediate position in addition to close and open position. Hand lever can be locked through pad lock
Body casting made of superior FG 260 grade cast iron to ensure additional strength.
Valve disc made of stainless steel / ductile cast iron which enable protection against possible water hammer or pressure surges.
A truly line size body bone to ensure maximum flow capacity with the lowest pressure drop.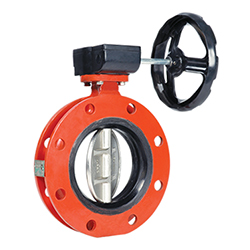 Rubber Lined Wafer End Butterfly Valve with Pneumatic Actuator
Size  : 3″-72″
MOC : CI / DI / WCB / CF8M
Seals: Nitrile / NBR / EPDM / Viton
Pressure : PN 6 / 10 / 16 / 20 & 25
Temperature : -20°c to 80°c (Depending on MOC)
Ends : Wafer Type Double Flange
Rubber Lined Wafer Type Butterfly Valve with Electric Actuator
Size  : 3″-72″
MOC : CI / DI / WCB / CF8M
Seals: Nitrile / NBR / EPDM / Viton
Pressure : PN 6 / 10 / 16 / 20 & 25
Temperature : -20°c to 80°c (Depending on MOC)
Ends : Wafer Type