"4Matic" Make The back flushing valve from ARDE is a small T type triple valve, this series is a double cavity diaphragm type hydraulic control valves with hydraulic driver. The valves use for Automatic back-flushing filtration systems, the water flow in inlet is straight-through(S) and angel flow (A).
Working Principle :
External Pressure makes Pressure in control cavity
in cresed thediaphragm
drive the spool part
to move to the valve base
makes it seat tight. At the time , the water from filter flow through outlet base
to discharge pollution. After the water from control cavty flow out, the system pressure and the soring
force takes the valve to return to filtering model.
Control head valves are three port hydraulic valves for backwash of filter stations, sand media filters, gravel filters, disc filters and screen filters. It is a compact valve, T configuration or in-line. Backwash valve closes the filter inlet, redirecting water in the opposite flow, so back flush would clean filtering elements and purge all captured impurities.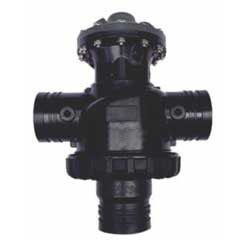 Our filter backwash valves range includes:
Filter backwash hydraulic valve 2″x2″
Filter backwash hydraulic valve 3″x3″
Filter backwash hydraulic valve 4″x4″
Typical Applications :
Automatic backwash of sand media filter stations
Gravel filters, disc filters, screen filters
Single Filter Autonomic Backwash System
Angle flow or straight flow configuration