Size Range : 2″ to 24″ Flanged
[dt_vc_list]
Features
4Matic Extended Stem Multi function Actuator Control Valve is ultimate solution for Under Ground & Over head Pipe Line used in Water Supply Boards. Main Valve to be mounted at its original place, keeping its controlling valve (Actuator) on ground level for convenient operation. Special Design Namur style Ball Valve mounted on main valve, couple with Pneumatic or Electric Actuator for operation. It's simple Technique stands against other Control Valve. High Flow factor and simple Pilot Control makes its very user friendly.
[/dt_vc_list]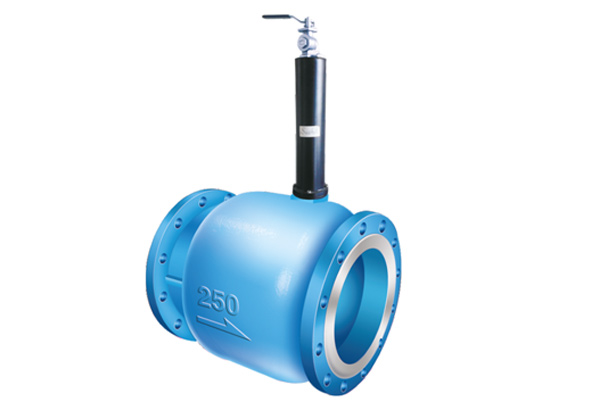 [dt_vc_list]
Advance option for extended stem Globe & Gate valve used for Water supply Boards & Other process control application.
Main Valve Body can be mounted at depth or excessive height by keeping its Controlling unit on ground level for convenient operation.
High Cv Value, with Low Pressure Hammering
Choice of operating Control available in Manual / Pneumatic / Electric Actuators.
On-Off & Proportionate (Modulating) control having Input Single of 4~20mA available in Pneumatic / Electric Actuator
Precise Pressure control and repeatability can be achieved for Proportionate Control Application.
Low Nosie & Friction at the time of Controlling.
Cost affective and long working life.
Vertical & Horizontal installation can be done.
[/dt_vc_list]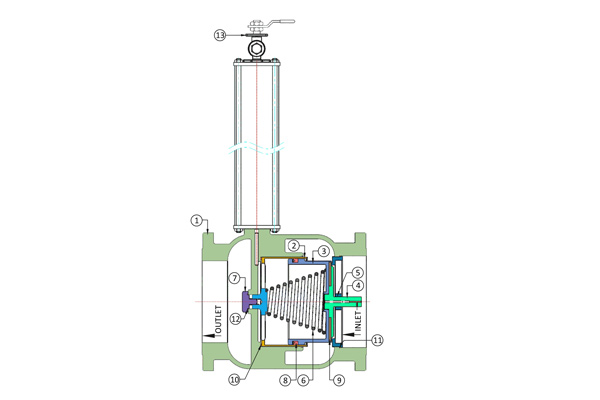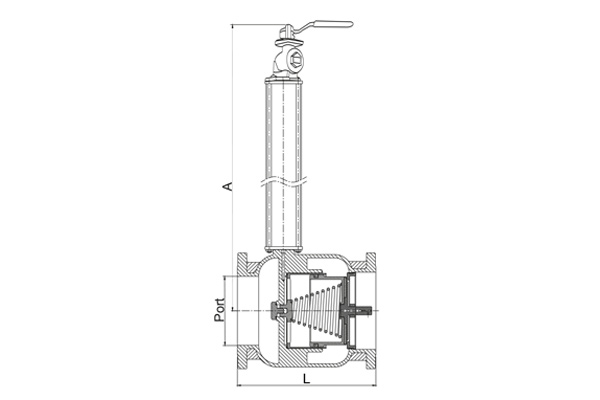 Dimensions : (All Dimensions are in mm)
Valve Model
Valve Size
Port
A
L
CV
Weight (Approx.)
MM
Inch
DXF – 50
50
2″
60
On Request
190
75
8.380
DXF – 65
65
2.1/2″
69
210
105
11.160
DXF – 80
80
3″
84
225
140
16.780
DXF – 100
100
4″
110
250
260
22.540
DXF – 125
125
5″
134.5
280
390
48.760
DXF – 150
150
6″
158.5
309.5
550
48.760
DXF – 200
200
8″
208.5
419
1000
91.500
DXF – 250
250
10″
257
473
1699
123.520
DXF – 300
300
12″
302
532
2200
196.040
DXF – 350
350
14″
324
598.4
3000
264.100
DXF – 400
400
16″
345
634
4000
277.800
DXF – 450
450
18″
472
766
5300
456.500
DXF – 500
500
20″
472
772.7
6100
490.650
DXF – 600
600
24″
589
900
9200
—-
| | | | |
| --- | --- | --- | --- |
| No. | Description | Material | Qty. |
| 1 | Body | WCB / C.I. / D.I. / CF8 / CF8M | 01 |
| 2 | Cover | Stainless Steel 304 / 316 | 01 |
| 3 | Plug | Stainless Steel 304 / 316 | 01 |
| 4 | Piston | Stainless Steel 304 / 316 | 01 |
| 5 | Piston Guide | Stainless Steel 304 / 316 | 01 |
| 6 | Spring For Piston | S. S. 304 | 01 |
| 7 | Piston Cover Lock Bolt | S. S. | 01 |
| 8 | V – Seal For Piston | NBR / Viton / EPDM | 01 |
| 9 | Piston Seat Ring | NBR / Viton / EPDM | 01 |
| 10 | Flat Ring | NBR / Viton / EPDM | 01 |
| 11 | O – Ring For Piston Guide | NBR / Viton / EPDM | 01 |
| 12 | O – Ring For Piston Lock Bolt | NBR / Viton / EPDM | 01 |
| 13 | Extended Shaft Valve | STD. | 01 |