Size Range : 2″ to 24″ Flanged
[dt_vc_list]
Features
Float valve uses a sub-valve (floating ball switch) to control the main valve. When the water level elevates to the full water level set by sub-valve (floating ball switch), the sub-valve (floating ball switch) closes and the back pressure chamber inside the main valve accumulates pressure rapidly, which reversely pushes the piston valve to close. By this mechanism, the float valve can thus  control the water level. In order to save space inside the pool and for easy maintenance, it is recommended to install the float valve outside the pool.
[/dt_vc_list]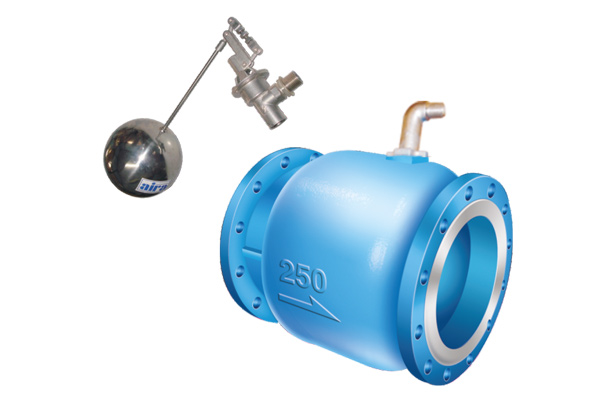 [dt_vc_list]
The working pressure should be greater than 0.3 kgf/cm  and gate fully open with
1.5 kgf/cm2, please check the pressure before installation.
Please remove impurities or metal dusts inside the pipe throughly. If possible, please add filter to prevent pipe blocking.
Vertical and horizontal installation is acceptable. Avoid upside-down installation under insufficient flow.
Please uses high pressure float ball switch.
[/dt_vc_list]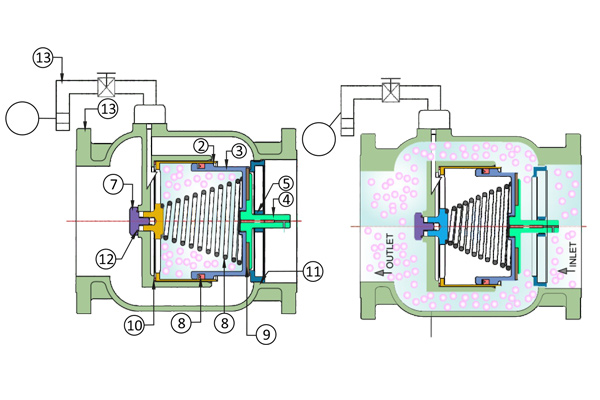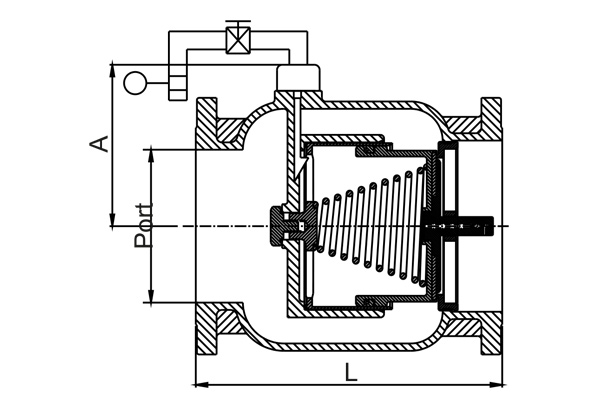 | | | | |
| --- | --- | --- | --- |
| No. | Description | Material | Qty. |
| 1 | Body | WCB / C.I. / D.I. / CF8 / CF8M | 01 |
| 2 | Cover | Stainless Steel 304 / 316 | 01 |
| 3 | Plug | Stainless Steel 304 / 316 | 01 |
| 4 | Piston | Stainless Steel 304 / 316 | 01 |
| 5 | Piston Guide | Stainless Steel 304 / 316 | 01 |
| 6 | Spring For Piston | S. S. 304 | 01 |
| 7 | Piston Cover Lock Bolt | S. S. | 01 |
| 8 | V – Seal For Piston | NBR / Viton / EPDM | 01 |
| 9 | Piston Seat Ring | NBR / Viton / EPDM | 01 |
| 10 | Flat Ring | NBR / Viton / EPDM | 01 |
| 11 | O – Ring For Piston Guide | NBR / Viton / EPDM | 01 |
| 12 | O – Ring For Piston Lock Bolt | NBR / Viton / EPDM | 01 |
| 13 | Float Valve | STD. | 01 |
Dimensions : (All Dimensions are in mm)
Valve Model
Valve Size
Port
A
L
CV
Weight (Approx.)
MM
Inch
DFF – 50
50
2″
60
162.5
190
75
9.880
DFF – 65
65
2.1/2″
69
172.5
210
105
12.660
DFF – 80
80
3″
84
187.5
225
140
18.280
DFF – 100
100
4″
110
200
250
260
24.040
DFF – 125
125
5″
134.5
218.5
280
390
50.260
DFF – 150
150
6″
158.5
241.5
309.5
550
50.260
DFF – 200
200
8″
208.5
279.5
419
1000
93.000
DFF – 250
250
10″
257
312.5
473
1699
125.020
DFF – 300
300
12″
302
346.5
532
2200
197.540
DFF – 350
350
14″
324
390
598.4
3000
265.600
DFF – 400
400
16″
345
390
634
4000
279.300
DFF – 450
450
18″
472
473
766
5300
458.000
DFF – 500
500
20″
472
473
772.7
6100
492.150
DFF – 600
600
24″
589
565
900
9200
—-