General
"4Matic" Non lubricated Sleeved & Lined Plug Valve are designed in accordance with API 599 for ANSI Class Ratings 150 & 300. Nominal sizes from 1/2″ to 12″ Valves have been design for use with various combinations of material Such as: Carbon Steel, Low Carbon Steel, Special Alloy, Stainless Steel, Monel, Inconel. 2 Way and Multiport Plug Valves are available for variety of applications
Construction & Working
Basic structure is plug, sleeve, body. Sleeve is inserted inside the body. Tapered plug is inserted into the sleeve. The sleeve acting as a soft seat completely surrounds plug creating areal sealing surfaces. Also not permitting any dead space in the flow path. Plug is rotating 90 degree. When it is aligned with the body port, flow is open. When the plug is rotated so that plug port is perpendicular to the body port the flow is blocked. The media kept in the plug while at closed position, will be contained in the plug port only. and when the valve is open again, the flow will flush the media out.
Unmatched Superior Sealing.
Bi-directional Zero leakage.
Primary sealing by PTFE sleeve with high pressure ribs for In-line sealing. Second by wedge ring. Independent Tertiary sealing by diaphragm. Leaving absolutely no chance for atmospheric leakage. This gives highest level of sealing when compared to any other valve design. (When compared with conventional ball valve, butterfly valve, gate valve, globe valve designs)
Inherently Cavity Free
No dead space. No fluid accumulation. No contamination. No sticking of media on plug.
360° Port Lips
360° port lips provide a self-cleaning action to remove scaling and adhering media. PTFE even through high grade plastic which is vulnerable to cold flow (permanent deformation) when subjected to varying loads and temperature. In a plug valve the 360° port acts along with upper and lower boundary restrict the sleeve preventing cold flow.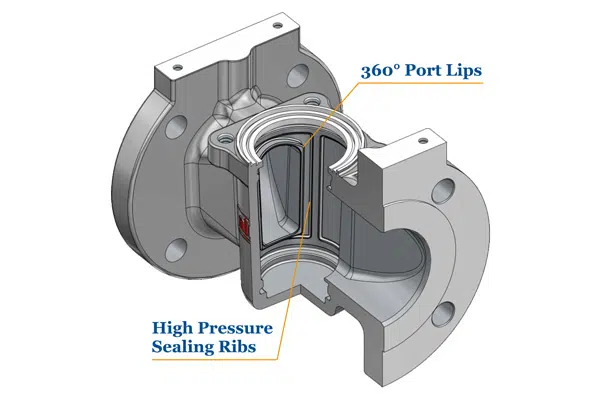 Less Joints. Less Problems.
Single piece body, tapered plug, cover. Improved monolithic compact design ensures lower costs and better performance.
No maintenance.
In case of PTFE sleeve wear from usage, a slight turn of adjusting bolt presses the plug down regaining sealing pressure making valve as good as new.
No lubrication in needed even after long period of inactivity, thanks to low co-efficient of friction of PTFE sleeves and smooth finished surface of plug. And even in case of regular maintenance plug valves are top entry valves, hence, need not be removed from the line and it can be easily service.