PFA LINED BUTTERFLY VALVES  (PTFE BUTTERRFLY VALVES)
4Matic Global Valves Automation Pvt. Ltd. Is one of the leading manufacturer and exporter of PFA Lined Butterfly Valves meant for corrosion as well as acidic applications. The company's manufacturing plant is located in Ahmedabad, India. The range accessible of our PTFE/FEP/PFA Teflon lined valves is from 3"(80NB) to 12"(300NB).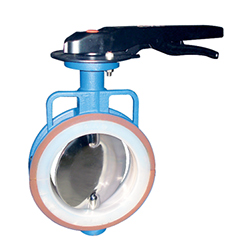 Our sizable supply also includes PFA Lined Butterfly Valves with Quarter Turn Gear Box, Motorized Electrical Actuator Operated (Single or Three Phase for modulating control and ON/OFF application along with or without manual override) or Pneumatic Spring Return Single/ Double Acting Actuator Operated quarter turn valves.
As far as manufacturing and exports of PTFE Butterfly Valves, 4Matic is the topmost brand. They take exceptional cautions so as to appreciate the specific requirements of their customers and select the perfect material for the products to be supplied to them. The installation of PFA Lined Butterfly Valves is between two flanges utilizing bolts or nuts and studs. PFA Lined Butterfly Valves are generally light in weight and their initial and installation cost is also low. The replacement as well as installation of PFA Lined Butterfly Valves is simpler in comparison to other fittings.
PTFE LINED BALL VALVES  (LINED CHECK VALVES)
4Matic has a substantial supply of PTFE Lined Ball Valves in FEP/FPA lining. As for Ball Valves, they are bidirectional valves always. The ball shaft which is in the middle can be voluntarily attached to a pneumatic/electric actuator over an adapter or furnished with a lever which is operated manually.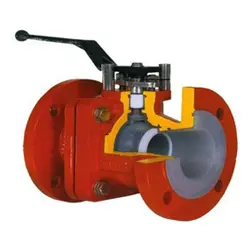 In the PTFE lined body the ball is sealed with exchangeable seat rings – PTFE. The ball shaft is sealed with a free of maintenance, fail- safe stance relaying on the type of the single-acting rotary actuator, the ball valve is having two fail-safe situations that become operative at the time when the actuator is free of pressure and at the time the supply air fails : Control valve is closed as there is no supply of air and the ball valve closes at the time the supply air fails while single acting actuator.
4Matic, the manufacturer and frontline exporters of PTFE Lined Ball Valves intended for corrosion and acidic applications. The accessible range of 4Matic PTFE/FEP/PFA Teflon lined valve is from 1"(25NB) to 6"(150NB). The company has a substantial volume of supply of PTFE Lined Ball Valves with Motorized Electrical Actuator Operated or Pneumatic Actuator Operated Quarter Turn Valves.
PTFE LINED PLUG VALVES  (TEFLON LINED VALVES/TEFLON SLEEVED VALVES/SLEEVED PLUG VALVES)
4Matic provides FEP / PFA / PVDF / PTFE Lined Plug Valves and has a sizable volume of supply. These valves are meant for very corrosive chemicals, in case of which higher alloy materials are more expensive as compared to lined ones.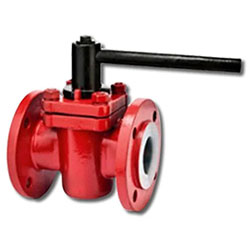 These valves become a protecting source for the equipment that is costlier, by increasing its working life as well as ensuring better functioning. The choosing of material for fluorocarbons lining of valves relies upon operating conditions such as, chemical and mechanical features of the fluid passing inside the pipe, valves, temperature etc.
4Matic Full Body Lined Plug Valves are generally made use of in pulp and paper operations, Chlorine Dioxide, Chlorine Water, Sodium Hypochlorite as well as sulphuric servicing. It is a proven fact that 4Matic Full Body Lined Plug valves give top grade functioning in numerous industries. These multi- purpose valves from 4Matic have an acknowledged name since last so many years for their top grade functioning, cost effectiveness on maintenance as well as long working life. The crucial design advantages of these valves are the superb diffusion and ability to fight off corrosion through Teflon, PTFE, FEP or PFA lining materials.
WEIR DIAPHRAGM VALVES
Weir Diaphragm Valves from 4Matic are specifically designed for resilient applications such as in the chemical processing, power generation, pulp and paper, mining, water treatment industries etc. 4Matic Diaphragm Valves are used to control media that is corrosive, erosive or carry solids which are inclined to obstruct other kinds of valves. The weir-type diaphragm valve can be successfully utilized as a control valve or in the case of manual throttling of a fluid is required.